Latest Info /
Dernières informations
2018/2019

Coming in January /
À venir en janvier:

Jan. 25-27

janv

.

Bonspiel Hugh Campbell

Bonspiel
Par invitation

Little Rocks Invitational


Draws and results will be posted here as soon as they become available. / Le tableau du tournoi et les résultats seront affichés ici aussitôt qu'ils seront disponibles.

________________________________________

Bonspiel

Little Rocks Bonspiel: Timmins


Three Kapuskasing Curling Club Little Rock teams participated in the MacIntyre Curling Club's
bonspiel held in Timmins from January 4th to 6th.
Click here for details.

Trois équipes Little Rocks du Club de Curling de Kapuskasing ont participé au bonspiel du Club
de Curling MacIntyre qui a eu lieu à Timmins du 4 au 6 janvier.
Cliquez ici pour les résultats.

__________________________________________
Mixed Seniors' Xmas Bonspiel
Held Wednesday Dec. 19th. Around 42 men and women curlers were present, including 5 from Cochrane. Thanks to all for showing up.
A special thank you to the organizers, ice-maker and kitchen staff!

Draw to the Button winner: Rick Cowan, 4''
Winner of the 50/50 draw: Don MacAskill, $71,50

Bonspiel de Noël seniors mixtes
Tenu le mercredi 19 déc. Environ 42 hommes et femmes ont participé, dont 5 de Cochrane. Merci à tous pour votre participation.
Un merci tout spécial aux organisateurs, technicien de la glace et les bénévoles de la cuisine!

Gagnant du lancer au bouton: Rick Cowan, 4''
Gagnant du tirage 50/50: Don MacAskill 71,50$

___________________________________


Job Postings
Click on ad for a larger image / Cliquer sur l'annonce pour une plus grande image

Click on the appropriate link for a full job description and application form./ Cliquez le lien approprié pour la description complète des tâches et le formulaire d'application.
_____________________________________________

Registration/

Inscription
Registration for the 2018-2019 Kap Curling Club season will be held during the week of October 15-21.
Please consult the attached documentation:
1- Registration
schedule
2- Registration
form
3- Waiver forms: 17 and under ; 18 and over
Helmet Waiver

In order to speed things up, you are invited to print out and complete the registration and waiver forms prior to arriving at the club.
L'inscription pour la saison de curling 2018-2019 du Club de Curling de Kapuskasing aura lieu pendant la semaine du 15 au 21 octobre.
Prière de consulter la documentation ci-jointe :
1-
Horaire
de la semaine d'inscription
2- Formulaire
d'inscription
3- Formulaires de renonciation: 17 ans et moins ; 18 ans et plus
Renonciation: Port du casque

Afin d'accélérer le processus, vous êtes invité à imprimer et à compléter les formulaires d'inscription et de renonciation avant de vous rendre au club.
___________________________________________________

Las Vegas BrokerLink Contest


(Click on picture for bigger image) /
Click
here
for more info.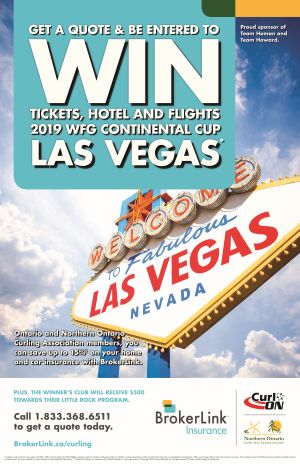 _________________________________________

AGM /
AGA
The Kap Curling Club will be holding its AGM (Annual General Meeting) on Thursday September 20th 2018 at 7:00 pm in the club's lounge.

Coffee will be available at 6:45 pm.

During the meeting, we will be presenting an overview of last year's activities and a preview of what lies ahead for the 2018-2019 season.

We will also be holding elections for four positions on our board of directors.

Only candidates who have signed the accompanying nomination form will be considered for board membership.

The forms can be submitted as late as the night of the AGM.
Please consult the following documentation prior to the meeting.
L'AGA (Assemblée Générale Annuelle) du Club de Curling de Kap aura lieu le jeudi 20 septembre 2018 à 19h00 dans le pavillon du club.

Le café sera servi à partir de 18h45.

En plus de présenter le bilan de la dernière année et un aperçu de la prochaine année, des élections auront lieu pour combler quatres postes au sein du conseil d'administration.

Vous trouverez ci-joint un formulaire de mise en candidature.

Nous accepterons seulement les candidatures des gens qui ont complété un formulaire.

Ces formulaires pourront être remis le soir même de l'AGA.
Prière de consulter la documentation ci-dessous avant la réunion.



AGM


CURLING CLUB LOUNGE
THURSDAY SEPT. 20th


7:00 PM


Click on the desired document to upload: the Agenda, the Minutes of last year's AGM, the 2017-18 Financial Statements, the Nomination Form, and the Proxy Vote Form.



AGA
PAVILLON DU CLUB DE CURLING
LE JEUDI 20 SEPTEMBRE
19H00


Cliquez sur le document désiré pour le télécharger : l'Ordre du jour, le Procès-verbal de l'AGA de l'an dernier, les États financiers 2017-18, le formulaire de Mise en candidature , et le formulaire de Vote par procuration.



_____________________________________________________

______________

___________________________________________________________________



2017/2018

March & April A
ctivities

Activités de mars et avril

Mar. 29

mars
School Bonspiel

des écoles


Results /

résultats




Apr. 7

avr.
Year-end supper & Awards Night


Souper de fin d'année & Soirée mérite



Around 60 people attended the event; a huge success.

View the photos and the list of award recipients here.
View the winners of the Little Rocks 50/50 Draw.
Winner of the 50/50 door prize of $93.50: Janice Adamson
Winners of the Tim Horton $20 gift cards: Pierre Gravel & Anne Jamieson


Autour de 70 personnes ont assisté à l'événement; ce fût une grande réussite.

Voir les photos et la liste des récipiendaires ici.
Voici les gagnantes du tirage 50/50 des Little Rocks.
Gagnante du tirage 50/50 (prix d'entrée): Janice Adamson
Gagnant(e)s des cartes-cadeaux Tim Horton, valeur de 20$ chacune: Pierre Gravel et Anne Jamieson


___________________________________________________________


January & February Activities
Activités de janvier et février
Breakfast /
Déjeuner 9h00-12h00
Feb. 06

févr

.

Senior Invitational Bonspiel (Old Bear) / Bonspiel des aîné(e)s par invitation
A total of 16 teams from Hearst, Smooth Rock Falls and Cochrane participated.
Winner of both the 50/50 draw ($172.50) and the Draw to the Button ($100 Kap Meat Sampler) is Louisette Albert.
A special thank you to the organizers of the event, the kitchen staff and all volunteers involved.



Un total de 16 équipes de Hearst, Smooth Rock Falls et Cochrane ont participé.


La gagnante du tirage 50/50 (172,50$) et du lancer au bouton (un échantillon de Kap Meat d'une valeur de 100$) est Louisette Albert.
Un merci très spécial aux organisateurs, personnel de la cuisine et tous les bénévoles impliqués.


Jan. 26-28

janv

.
Bonspiel Hugh Campbell Little Rocks Invitational
Results and photos are posted here .


Bonspiel annuel par invitation Hugh Campbell Little Rocks
Les résultats et les photos sont affichés ici.



___________________________________________________________

December Activites
/ Activités de décembre
Dec. 20

déc

.
Local Senior Funspiel /

Funspiel local des aîné(e)s



Around 30 curlers participated in the Local Mixed Senior Funspiel held Wednesday Dec. 20th.

Winners of the Draw to the Button: Hugh Campbell (button),
Dave Measor (18 1/2 inches), Bruce Beadow (29 3/4'').
Winners of the Funspiel Total Points: Andy Cataford and Norm Turgeon tied for 1st place with 26 1/2 points; Greg Campbell came in third place with
25 1/2 points; JC Daigle came in fourth place with 25 points.
John Ballantyne won the 50/50 draw for $67.
Click here for a few photos.



Environ 30 curleurs/curleuses ont participé au Funspiel local des ainé(e)s.


John Ballantyne a gagné le tirage 50/50 pour 67$.
Les gagnants du lancer au bouton sont: Hugh Campbell (bouton); Dave Measor (18 1/2 ''); Bruce Beadow (29 3/4'')
Les gagnants du tournoi: Andy Cataford et Norman Turgeon en 1ère place (26 1/2 points); Greg Campbell, 3ième place avec 25 1/2 pts; JC Daigle, 4ième place avec 25 pts.
Cliquez ici pour quelques photos.

Dec. 22 - Jan. 5 /

22 déc. - 5 janv.
No competitive league play
Aucune partie pour ligues compétitives

___________________________________________________________
November Activites
/ Activités de novembre

Curling Week /

Semaine du curling
Update (Draw to the Pin Contest)

:


During Curling Week, 37 curlers took part in the local Draw to the Button competition.




With a distance of 4.5 cm to the pin, Yvon Jean won the Closest to the Pin local competition prize of $60. Pierre Gravel won $30.50 for second place, with a distance of 10 cm.
Carson Carrière is the winner in the 6-11 years of age category and Jonathan Hince wins the 12-17 age category.



Mise à jour (Compétition du Lancer au bouton):


Lors de la semaine du curling, 37 membres du club ont participé à la compétition locale du Lancer au bouton.
Avec une distance de 4,5 cm du centre, Yvon Jean se mérite le 1er prix de 60$ lors de la compétition locale du Lancer au bouton. Pierre Gravel gagne la 2ième place avec une distance de 10 cm, pour un prix de 30,50$.
Carson Carrière gagne dans la catégorie 6-11 ans et Jonathan Hince gagne celle des 12-17 ans.


Souper

Spaghetti Supper
The spaghetti supper held Saturday November 18th was again a huge success; 148 tickets were sold.


Special thanks to the numerous volunteers involved in making this event a success: the organizers, the bartenders, the teams involved in the preperation and serving of the meal, as well as the cleaning crews of the lounge, kitchen and dishes.
The winner of the 50/50 draw was Anne Jamieson ($250).

Le souper spaghetti tenu le 18 novembre fût encore un grand succès; 149 billets ont été vendus.

Un merci très spécial à tous les volontaires impliqués: les organisateurs, les barmans, les équipes pour la préparation et le service du repas, ainsi que les équipes de nettoyage de la salle, cuisine et vaisselle.
Anne Jamieson a gagné 250$ lors du tirage 50/50.
Merci à tous les parcicipants!
___________________________________________________________