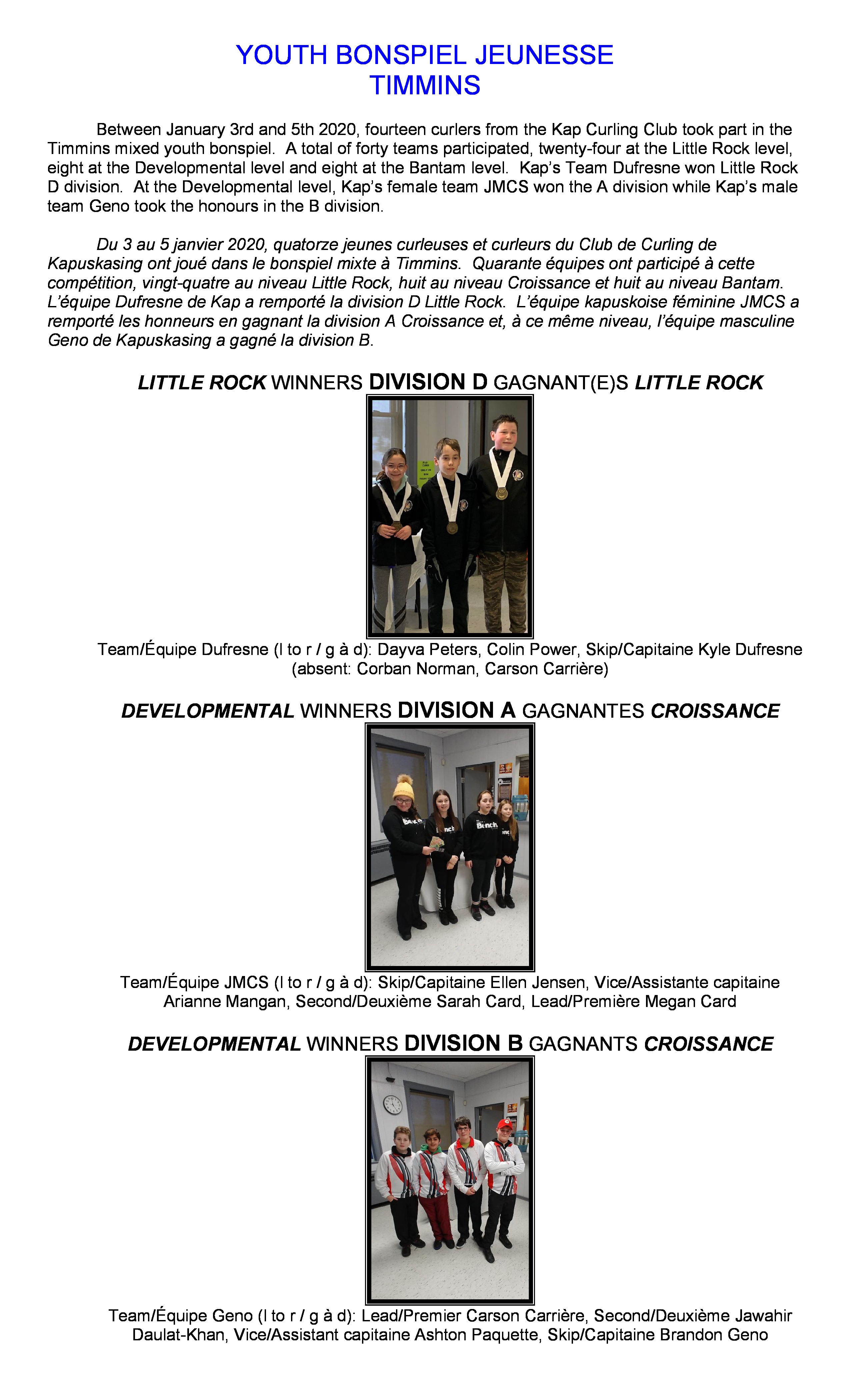 ---------------------------------------------------------------------------

Latest Info /
Dernières informations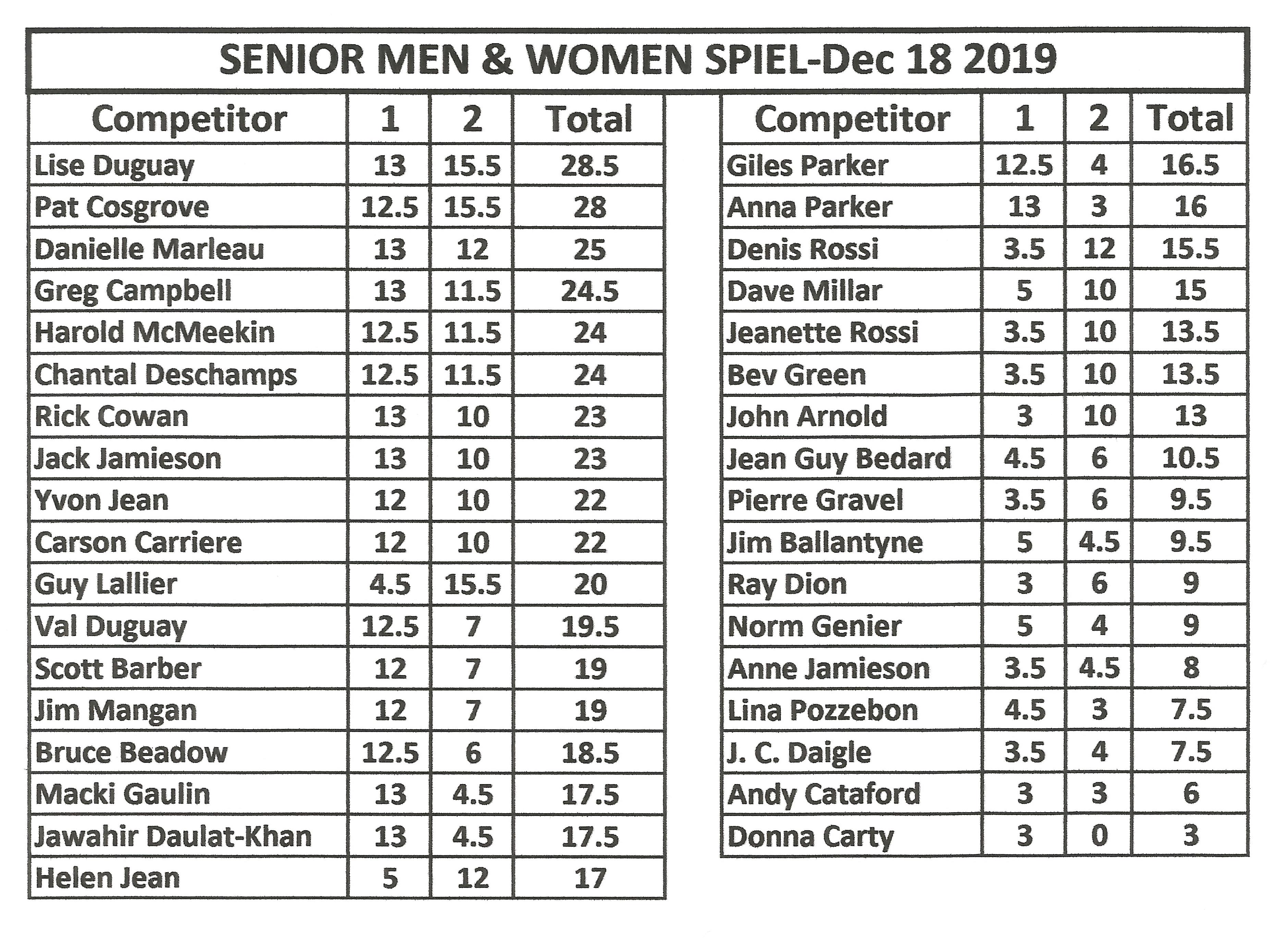 The Senior Men and Women Fun Spiel was held Dec 18 2019 with 35 competitors attending. The 2 game 6 enders mixed the curlers socially and in each game positions were rotated. With the luck of the draw and solid team mates in both games Lise Duguay had the highest total points. Congratulations Lise. Denis Rossi 's total points set him up as the mid point winner. Unfortunately Donna Carty had to leave prior to the second round and consequently scored as the bottom competitor. We missed you in that second round Donna!
The draw to the button was held between the two games and the winner was Anne Jamieson being just 3.5 inches off the pin. Congratulations Anne.
The 50/50 draw winner was celebrated with a round of applause. It was Cindy MacAskill. Don must be smiling. Cindy donated the $79.00 winning to the developmental teams. (This under the old naming system is Bantam curlers.) The Club thanks you Cindy for the donation of your winnings.
In closing many thanks to the personnel in the background who prepared and ran the event, to make it a success.
John Arnold, Greg Campbell, Hugh Campbell, Rick Cowan, Macki Gaulin, Jack Jamieson, Jim Mangan, Gert Mangan, Harold McMeekin, Giles Parker
2019/2020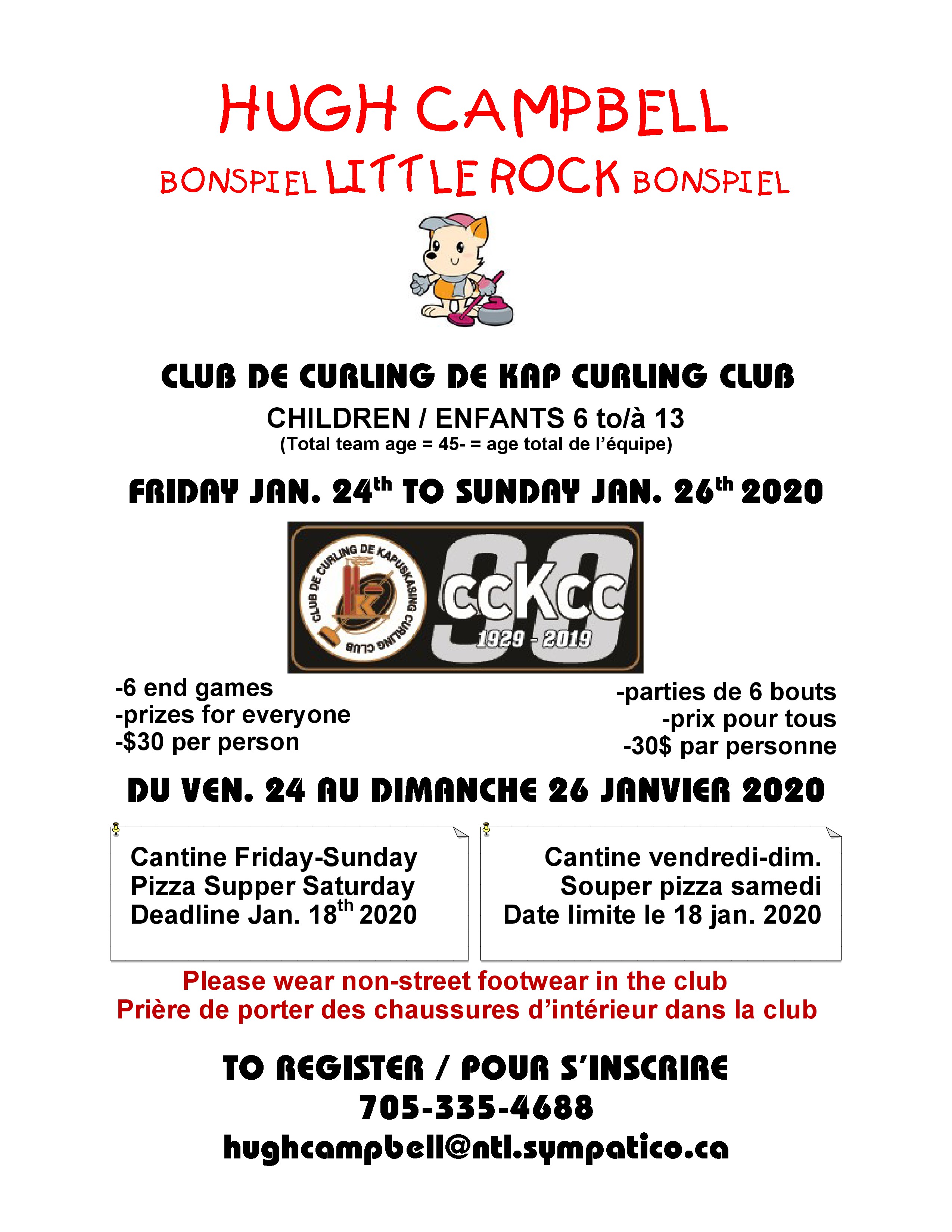 -------------------------------------------------------------------------------------------------------------------------
___________________________________________________________________________
2019
Don (Mac) MacAskill

It is with sadness and our deepest condolences to his family that the Club executive announces the passing on December 6 of long time member and past president Don MacAskill.


Don moved to Kapuskasing from Kirkland Lake and became a local entrepreneur in various businesses. He quickly was taken by the sport of curling. He enjoyed the social aspect of curling as well as placing his rocks at the right place. In the early 1950's as a winter pastime he curled in the two sheet club attached to the arena and became a member of the East End Merchants team. When the four sheet club was built adjacent to the arena in the mid-1950s (now better known as the Park Inn) Don eventually had his name on a trophy, the Seagram KCC Annual Year Champion 1964/65 trophy. His teammates were A. Kott (skip), R. Faust (second), A. Belanger (lead) with Don holding the position of Vice. When he was not curling Don helped serve up " Morning Class" to fellow 'hurting' curlers in the marathon bonspiels of the era. Don was known by many in the district as the provider of the magic potion that would allow curlers back on the ice safely.
In recent years Don curled in the Seniors League until like all older curlers his knees let him down. This did not stop Don. By becoming wiser with age, Don assisted the Seniors with morning coffee replacing " Morning Class" beverage and volunteering his time with the never ending club chores. Don held club executive positions over the years and in his senior years became the unofficial 'official' Ticketmaster. Don sold his last 50/50 tickets at the November 18 Spaghetti Dinner event, It was in 2019 that Don finally sold himself a winning ticket after so many years of selling. Mac, you have touched many hearts in your lifetime, your smile will be missed.




A message from our president
It is with great sadness that I must inform you that our curling community has lost another longtime member. Wes Szyjka passed on Thursday, Nov 28. Our thoughts and prayers are with his wife and family. His contribution to the club activities over many years was always appreciated.

Greg Campbell







April activities /

Activités d'avril

Year-end supper & Awards Night /

Souper de fin d'année & Soirée mérite



Apr. 4

avr.
School Bonspiel

des écoles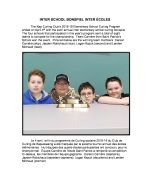 ______________________________________


March Activities /
Activités de mars


Mar. 8-10

mars
Bonspiel
Little Rocks Bonspiel (Iroquois Falls)
Mar. 27

mars
Local Men's Senior Bonspiel
Thirty-five club members participated in the event. J.C. Daigle was the 1st place 2-game winner. Jack Jamieson won the Draw to the Button competition. Bev Franck won the Turkey Draw with the help of Chantal Deschamps. Kip Giles won the 50/50 draw ($87).


Bonspiel local des aîné(e)s
Trente cinq membres du club ont participé à l'événement. J.C. Daigle a gagné la première place avec le plus haut total de points sur les deux matchs. Jack Jamieson a gagné la compétition du lancer au bouton. Bev Franck a gagné le lancer à la dinde avec l'aide de Chantal Deschamps. Kip Giles s'est mérité la somme de 87$ lors du tirage 50/50.


Mar. 29-31

mars
Bonspiel

Little Rocks Bonspiel (Smooth Rock Falls)
______________________________________
February Activities /
Activités de février


Feb. 1-3

févr.
U18 Girls & Boys Regionals
Régionaux filles & garçons -18
Feb. 5

févr

.
Senior Invitational Bonspiel (Old Bear)

Bonspiel des aîné(e)s par invitation (Vieil/le ours/e)
Draw to the Button winner : Chantal Deschamps $25


Gagnante du lancé au bouton: Chantal Deschamps 25$
Feb. 24

févr

.

Breakfast /
Déjeuner


The Kap Curling Club will be holding a fund-raising breakfast in the club's lounge on Sunday February 24th from 9:00 am to noon.

Tickets are $10 for adults and $5 for children (5 to 10 years old).

They must be purchased in advance and will sell briskly.

They are available from league coordinators, Don MacAskill or from Greg Campbell (705-347-1427).
Le Club de Curling de Kap servira un déjeuner, dans le coin salon du club, le dimanche 24 février de 9h00 à 12h00. Les billets coûtent 10$ pour les adultes et 5$ pour les enfants (5 à 10 ans). Ils doivent être achetés à l'avance et s'envoleront rapidement. Ils sont vendus par les coordonnateurs des différentes ligues, par Don MacAskill et par Greg Campbell (705-347-1427).
______________________________________


January Activities /
Activités de janvier:
Bonspiel Hugh Campbell

Bonspiel
Par invitation

Little Rocks Invitational

________________________________________
Jan. 4-6 janv.
Bonspiel
Little Rocks Bonspiel: Timmins
Three Kapuskasing Curling Club Little Rock teams participated in the MacIntyre Curling Club's
bonspiel held in Timmins from January 4th to 6th.
Click here for details.
Trois équipes Little Rocks du Club de Curling de Kapuskasing ont participé au bonspiel du Club
de Curling MacIntyre qui a eu lieu à Timmins du 4 au 6 janvier.
Cliquez
ici
pour les résultats.
__________________________________________
Mixed Seniors' Xmas Bonspiel
/
Bonspiel de Noël seniors mixtes


Held Wednesday Dec. 19th. Around 42 men and women curlers were present, including 5 from Cochrane. Thanks to all for showing up.
A special thank you to the organizers, ice-maker and kitchen staff!

Draw to the Button winner: Rick Cowan, 4''
Winner of the 50/50 draw: Don MacAskill, $71,50

Tenu le mercredi 19 déc. Environ 42 hommes et femmes ont participé, dont 5 de Cochrane. Merci à tous pour votre participation.
Un merci tout spécial aux organisateurs, technicien de la glace et les bénévoles de la cuisine!

Gagnant du lancer au bouton: Rick Cowan, 4''
Gagnant du tirage 50/50: Don MacAskill 71,50$

___________________________________


Job Postings
Click on ad for a larger image / Cliquer sur l'annonce pour une plus grande image

Click on the appropriate link for a full job description and application form./ Cliquez le lien approprié pour la description complète des tâches et le formulaire d'application.
_____________________________________________
Las Vegas BrokerLink Contest


(Click on picture for bigger image) /
Click
here
for more info.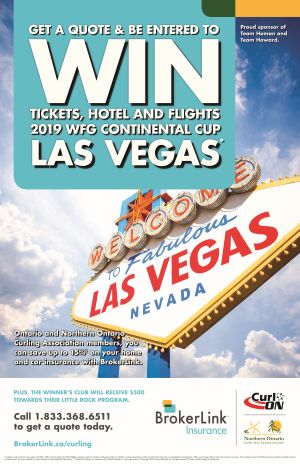 _________________________________________